Repair Workshop
All types of AC and DC rotating machinery rewound and overhauled around the clock by our dedicated team of workshop Engineers. Transforming tired worn out machinery back to a very high standard to ensure its longevity.
Pump Repair / Refurbishment
Various types of pumping units fully refurbished / overhauled and pressure tested beyond normal working conditions, prolonging the life expectancy of each unit. Large stocks of mechanical seals, o-rings and all bearings are held in stock to enable our Engineers to turn the jobs around swiftly, reducing customer downtime.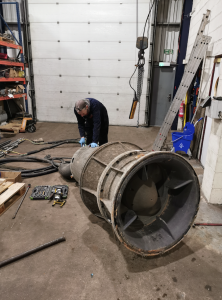 Whether a gearbox has failed or become noisy, our Engineers can detect the fault and carry out the overhaul. B&R's in house machining facilities are capable of manufacturing new shafts and gear cutting as required.
Fan units refurbished to very high standard, impellers and casings grit blasted and professionally repainted, dynamically balanced and rebuilt
Facilities in house to dynamically balance impellers up to 1.5mtr diameter.
Machining / Turning / milling
Our fully equipped in house machine shop has capabilities to reclaim motor bearing housings, machine and sleeve all worn rotors and shafts returning them to manufacturers original tolerances. Manufacturing of shafts, cutting key ways etc. plus many other machining services available.
Grit blasting facilities in house capable of accommodating any size of plant.